23 June 2010: Celebrating European Citizenship and Achievement - National Conference
Ballybeen Women's Centre held a national conference "Celebrating European Citizenship and Achievement" on Wednesday 23rd June at the Stormont Hotel. The event was part of a Europe for Citizens Project entitled "Dialogue with the EU: Voices of the European Citizen". The event was attended by over 100 people. As well as women and young people guests included local Councillors, representatives from DSD and the voluntary and community sectors.
The keynote speaker was Diane Dodds MEP who congratulated the women on their achievements. "Today is a real credit to everyone involved with Ballybeen Women's Centre, particularly when I talk to attendees and here their sucess stories they have to tell," she said.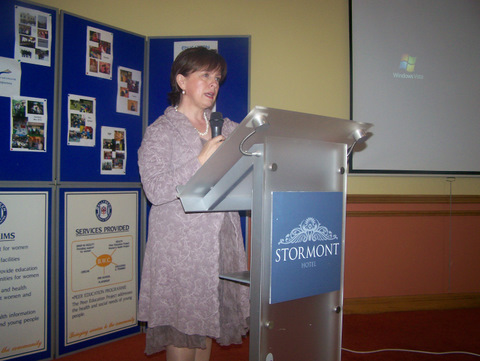 Also speaking at the event was Fiona O'Connell, the Policy and Research Coordinator with the Women's Support Network who emphasised the importance of EU programmes in promoting active EU Citizenship particularly amongst women whose level of engagement with the EU is low.
Amanda Marshall, EU Programmes Coordinator at Ballybeen Women's Centre said "The Dialogue with the EU project aims to empower individuals with the necessary knowledge and competences to express their opinions on issues of European interest for example on the European integration process or EU policies and their impact" .
Ballybeen Women's Centre has been involved in EU partnership projects since 2003 and the Centre's Director Tanya Hughes said "Participation in EU work has become an increasingly important element of work at the Women's Centre. It has had benefits for both staff and participants. For staff it has provided opportunities for professional development and for learners it has enabled them to gain knowledge and skills in a wide range of subjects EU programmes have also provided excellent opportunities to explore and gain an understanding of other cultures and traditions which has in turn encouraged learners to think beyond the confines of their own community, explore diversity on an EU basis and promote EU citizenship".